I really wish that I had more time to write reviews, but my work and home schedule tend to consume most of my awake hours. Lately, the best time to write is when I'm business traveling – long hours trapped on a plane with music in my ears is the perfect opportunity to catch up on my extensive backlog. This afternoon, I'm on my way to Seattle, so I have plenty of time to write about a few of the records that I've been enjoying lately.
Glories 'Mother Reverb'
This has been an amazing year for new releases. So instead of focusing on just one new record, three bands are going to share this space. The first is Glories. Their record 'Mother Reverb' has been on heavy rotation lately – it's an outstanding collection of smooth and melodic instrumental rock. The other day as I was settling in to work, the sun was just coming up, and the morning fog was perfectly lit as it slowly faded. 'Pagan Holiday' was streaming – I really couldn't imagine a better soundtrack for the moment. Blissfully chiming guitars; gentle yet powerful swells; and such easy movement. Highly recommended for fans of Explosions in the Sky's 'Friday Night Lights,' Red Room Cinema, Rest (Nashville, US), Sunlight Ascending's 'Appointment' EP, and Moonlit Sailor. This is a wonderful collection of music – definitely a post-rock gateway drug.
Mother Reverb by Glories   http://glories.bandcamp.com/album/mother-reverb   released 12 April 2013
'Let's Not Rush Out And Tell Everyone' Official Music Video   http://www.youtube.com/watch?v=0aYHd4wiWaE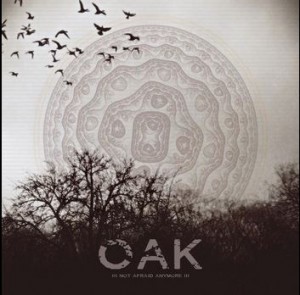 Oak 'Not Afraid Anymore'
I am, and always have been, a big fan of heavy (instrumental) rock. Growing up in the 70s with older brothers who introduced me to all of the earliest heaviness, and then through high school, college and beyond – years of industrial and post-punk damage spewing from my speakers, I remain to this day 'hooked by the riff' (sorry, I had to say it). Mid-period bands such as Sonic Youth, Rodan, Savage Republic, Major Stars, Labradford, Dust Devils, and Rothko (all growing up in the 70s also), provided me with a massive brainful of trudging guitar rock that was always innovative, complex, and constantly evolving. Of course, I wasn't the only person to be consumed by these sounds. Over the last ten years, an incredible number of outstanding new bands have continued to experiment with this post-punk heaviness and their own psychedelic rock influences, while adding unique and driving rhythms, and densely melodic compositions.
Oak's new release 'Not Afraid Anymore' is an excellent example of this new breed. The songs are dynamic, brooding and dark. 'ER, 2am' oozes with restrained power for many minutes, and then pummels you with a wall of wailing guitars and pounding bass – this ten-minute beast finds itself on repeat often at 6forty HQ. And it's my go-to song when I'm introducing Oak to new listeners. I really like how the band masterfully handles the numerous transitions in each of the epic-length tracks. No need for vocals here – the varied tempos flow together seamlessly, keeping the listener engaged as the tracks move and weave a thickly settled story.
'Not Afraid Anymore' is definitely one of my favorite releases of 2013. Highly recommended for fans of Rest (Cork, Ireland), What The Blood Revealed, Barrows, Fargo, Anna Purna, Red Sparrowes, and Daturah. If you enjoy powerful and intelligent instrumental rock, you will love this record – trust me. Here they are with several other great bands – http://www.6forty.com/?p=1495 640.071 'In the Kingdom of the Cuckoo.'
Not Afraid Anymore by Oak   http://oakinstru.bandcamp.com/album/not-afraid-anymore   released 19 January 2013
Teaser – Recording Session 2013   http://vimeo.com/65516959
The Shaking Sensations 'Stop Start Worrying'
The Shaking Sensations second release 'East of Youth' was #1 on 6forty's 2011 favorites list, and is definitely in my top 10 list of best post-rock records. So while I waited for the release of the follow-up, I wondered which direction they would go with their sound, and how it would compare to the numerous strengths of 'East of Youth.' Release day arrived in the form of an email with my download code (the CD wouldn't ship for another few days). Granted, an email with a URL and a few numbers and letters didn't quite match the fond memories of walking in to the local indie record store and finding it on the new releases rack. But it was still pretty good. A few minutes later, I clicked play, turned up the volume, and settled in for the ride.
'Start Stop Worrying' does not disappoint in any way. It's a perfect follow-up to 'East of Youth' – the tracks are lush and melodic, and exhibit many of the same characteristics that made the first two records so enjoyable. The way the band embraces expanding layers of percussion; chiming guitars that weave and soar; perfect transitions between the heavy and soft moments; and my favorite quality – the confidence in the song structure and writing – no need to follow the cookie-cutter post-rock template. Instead, the band delivers six stunning and mature compositions that firmly position them among the best in the instrumental rock genre.
This record is easily as good as 'East of Youth' and will definitely live high on 6forty's 2013 favorites list. It's guaranteed to appeal to post-rock fans who enjoy the music of Pg.lost, Caspian, Ef, Moonlit Sailor, and Codes in the Clouds. I look forward to hearing these songs live – some day I'll figure out a way to fund a 6forty music festival that will include The Shaking Sensations on the bill. Maybe I'll buy a lottery ticket tomorrow…
Start Stop Worrying by The Shaking Sensations   http://theshakingsensations.bandcamp.com/   released 22 March 2013