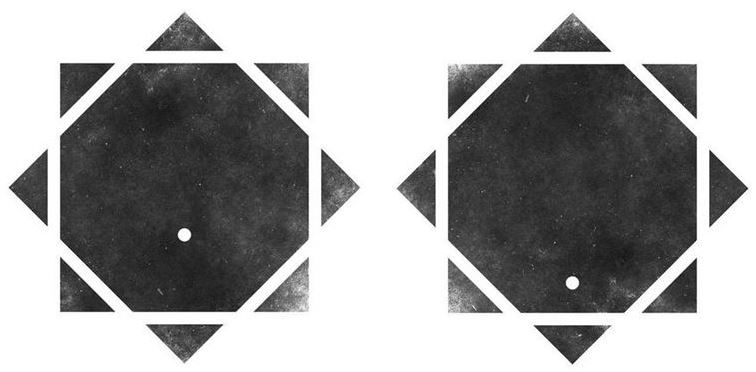 Produced in an ultra-small batch of 33, the first cassette in The Ascensionist series was released on March 30, 2018. Nine more editions followed, and all were sold-out within a few hours after the announcements landed on social media. The hand-made packaging is beautiful – screen-printed cardboard outer and inner sleeves; a large paper insert, gorgeously designed with liner notes and intricate imagery; a small envelope sealed with a wax stamp, containing a custom-made coin; and hand-numbered 1/33. This attention to detail and exceptional graphic design has become the standard on all output from A Thousand Arms, a boutique, independent record label from Bozeman, Montana (US), and home-base to Ranges and The Ascensionist. Each cassette's elaborate package closely matches the design of the others in the series, and serves as a cohesive visual extension of the music contained within – moments of ambient exploration, quiet soundscapes, and gentle movement. Ranges fans will be comfortable here, as will fans of Harold Budd, Cocteau Twins/Moon and the Melodies, Talk Talk, and lovely music.
The final two cassettes in the series, IX and X, were released together in December 2020. Printed on the inside sleeve is this message:
DOWNLOAD CASSETTE IX // CASSETTE X
DOWNLOAD THE ASCENSIONIST // BABEL: CONFUSION OF TONGUES
SYNCHRONIZE THEM USING ANY SUITABLE METHOD
I spent a few hours syncing the tracks and then reached out to CJ Blessum to get his thoughts on a special presentation, featuring the two combined albums on 6forty web, along with a full shuffled playlist on 6forty radio of all of the cassettes, along with tracks from each of the Ranges releases. His reply, "Go for it. The goal for us with this was to hopefully get people to do exactly what you're proposing." You are about to experience something very special – the releases on their own are outstanding. Together, they are pure magic.
IX / The Ascensionist (click the arrow below to start play)
X / Babel: Confusion of Tongues (click the arrow below to start play)
The Ascensionist series on 6forty radio : http://www.6fortyradio.com/
Ranges / The Ascensionist
Bandcamp : https://ranges.bandcamp.com/
Bandcamp : https://theascensionist.bandcamp.com/
Facebook : https://www.facebook.com/rangesmusic/
Spotify : https://open.spotify.com/artist/1iqjhf6W2YXUWwa2iKMybf/
Web : https://www.rangesmusic.com/
6forty project
facebook : https://www.facebook.com/6fortyproject/
instagram : https://www.instagram.com/6fortyproject/
radio: http://www.6fortyradio.com/
web: http://www.6forty.com/
twitter: https://twitter.com/6fortyproject/
youtube: https://www.youtube.com/6fortyproject/
email: mike@6forty.com